You can do nail art on any kind of nail, like pointy or short ones. It's like a blank canvas that you or a nail expert can make cool designs.
We like all styles, but there's something special about art on almond-shaped nails. Almond nails let you create different art compared to square nails of different lengths.
That's why people really like almond nails.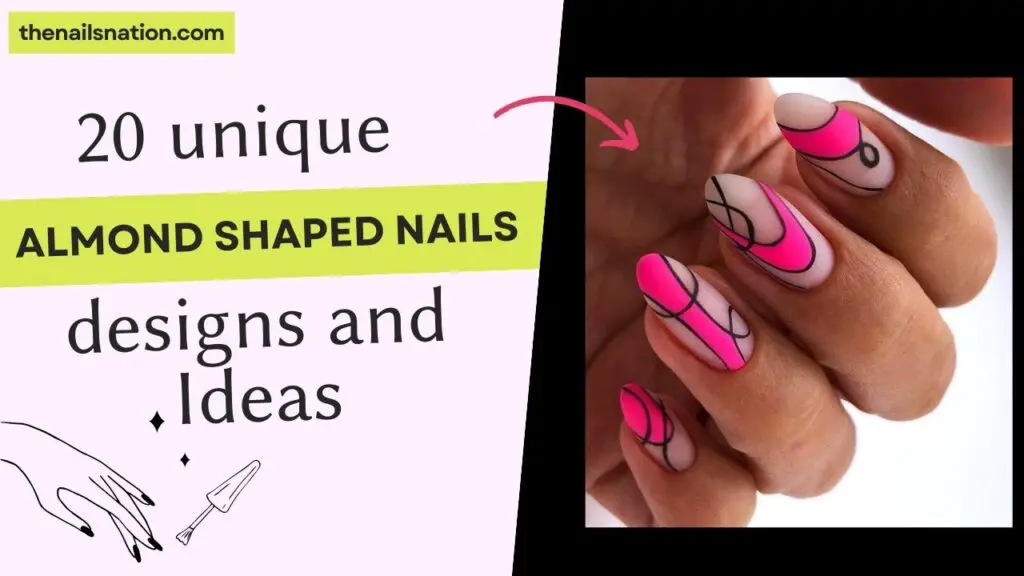 The almond shape makes nails look longer and narrower compared to other shapes. Depending on the design you choose, you can emphasize or tone down this effect.
Here, we have a selection of 20 incredibly imaginative, stylish, and social media-worthy manicures that are specially created for almond shaped nails designs.
20 trendy almond shaped nail ideas
Classic round, bold square, and daring stiletto—each nail shape has its charm. Almond-shaped nail design combine the best of all worlds.
With their oval contour resembling their namesake, they are both trendy and contemporary, boasting a hint of edginess due to their slightly pointed tip. So, for your next manicure make sure you check these nail ideas: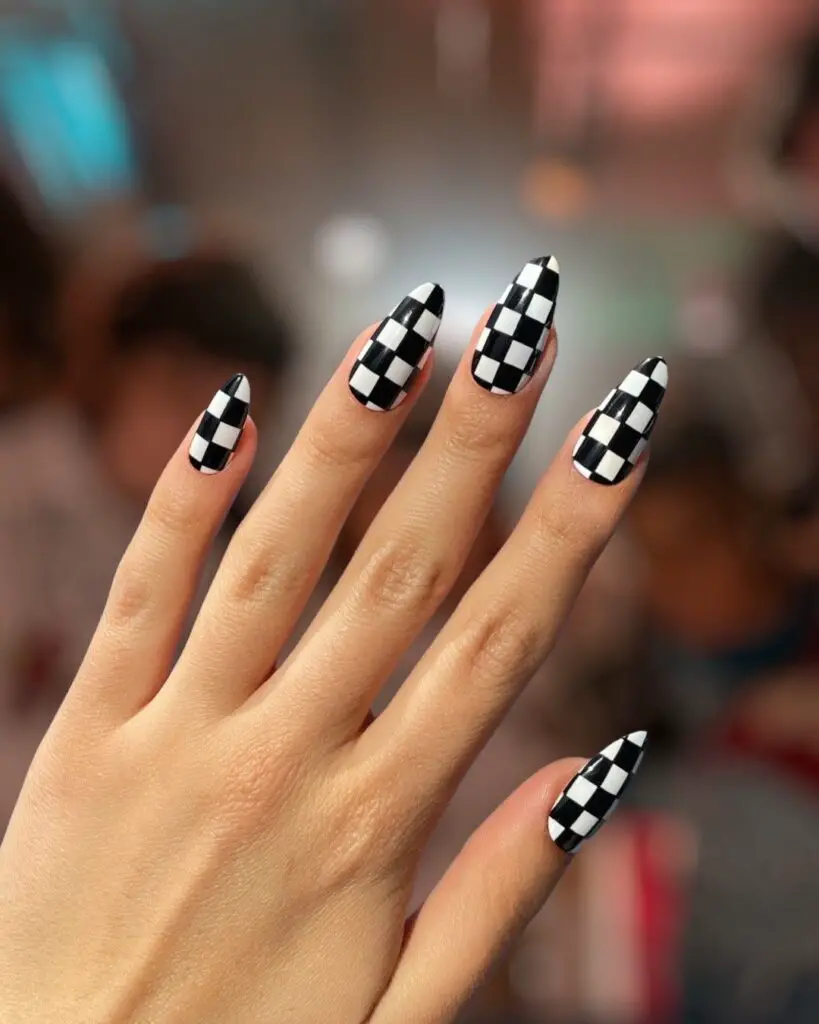 The trend of checkered nails, which gained popularity in the spring, continues to thrive as a captivating graphic art.
The mesmerizing swirls of this pattern beautifully accentuate the elegant contours of almond-shaped nails, adding an extra layer of charm to their already pretty shape.
Like Black nails? Then you also check – 21 Classy Black and Gold Nail Designs and Ideas
If you want to try the classic French manicure for more fun, you can experiment with heart-shaped tips. These cute nail tips look great with almond-shaped nails and make them even more special.
If you have longer nails, this style works well. To get it just right, you might want to go to a salon for acrylic nails.
Make your nails like a special scrapbook by giving each one a different design. This fun idea isn't just cute – it's a great chance to get better at doing nail art.
So, feel free to try it out! Decorating each nail with its own design not only look nice, but it's also a cool way to practice and get really good at making your nails look amazing.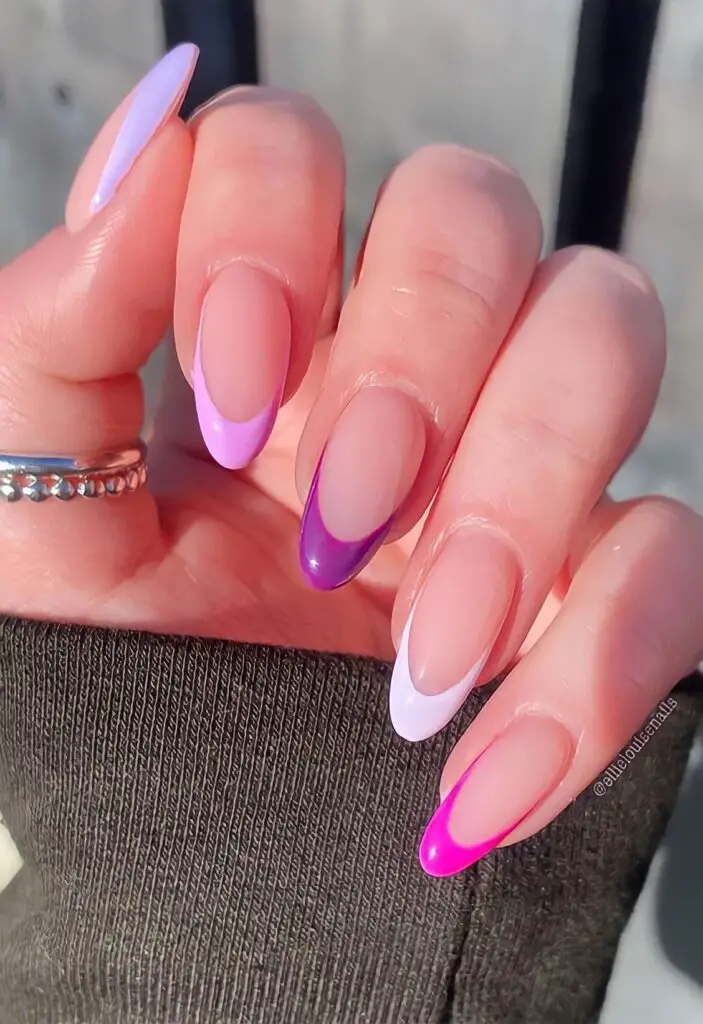 Upgrade your appearance with a modern twist on the classic French manicure—mismatched swirling tips, ideal for almond-shaped nails.
This approach respects tradition while infusing a lively, innovative vibe. Embrace this trend to seamlessly blend timeless and contemporary styles.
It's a great pick for those seeking unique elegance and an unconventional yet captivating look.
Try wavy tips for longer-looking nails, like French tips but cooler. Make it even better by using a bright red nail polish, like Essie's "Cherry on Top," on your almond-shaped nails.
This lively color not only shows off your nail's unique curve but also catches everyone's attention.
If you wish to achieve a truly attention-grabbing manicure, transform your nails into an artistic canvas and draw inspiration from the world of abstract art. Let your creativity run wild and design a nail look that's a true masterpiece.
7. Sunny swirls nail design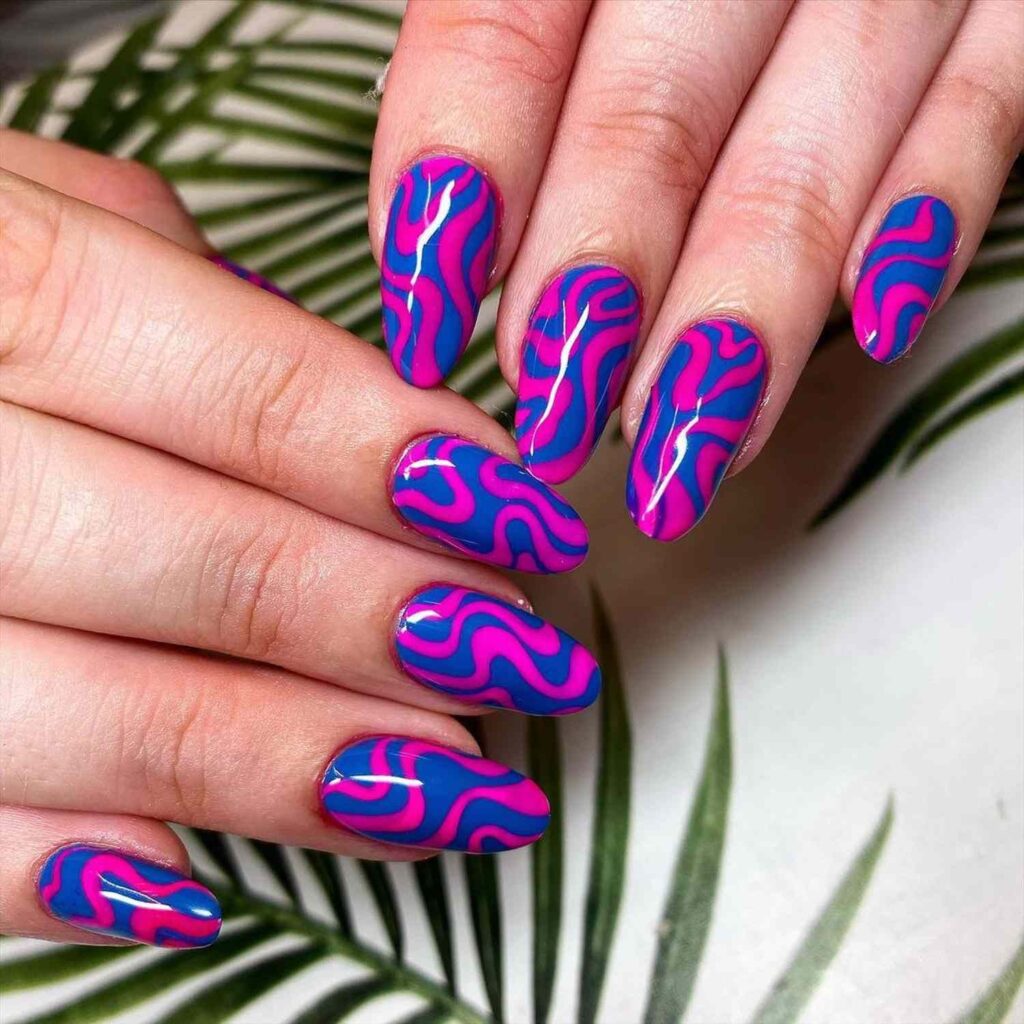 Fusing modern swirls with timeless tips creates a remarkably stylish manicure that stands out.
Elevate this look by adding a touch of whimsy with butterfly stickers, lending an enchanting charm to your nails that's bound to capture attention.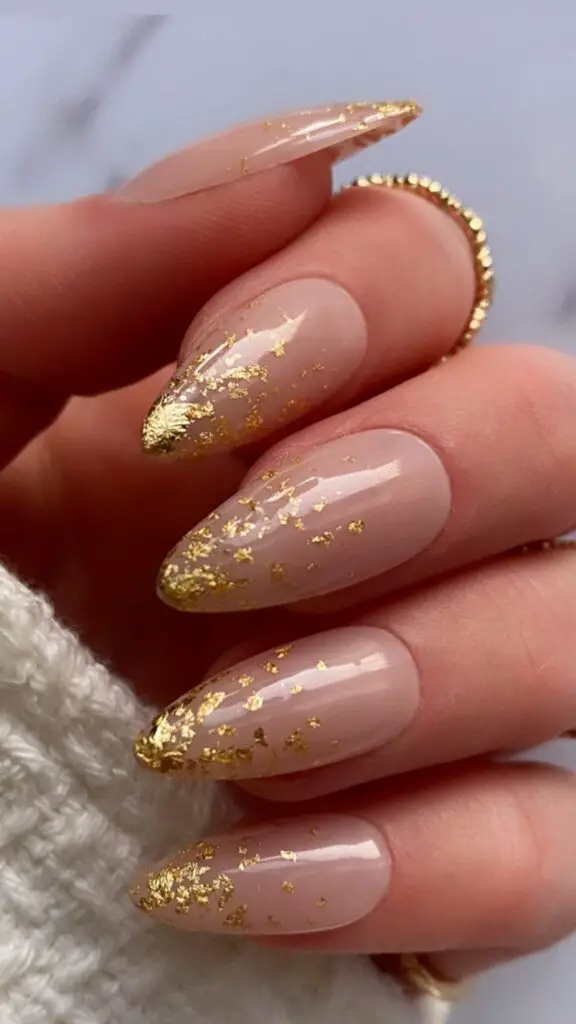 Elevate your style with gold foil tips that accentuate the graceful contours of almond-shaped nails, imparting an aura of opulence and luxury.
This exquisite choice not only enhances the natural elegance of your nails but also adds a touch of sophistication, making your manicure radiate a sense of high-end glamour.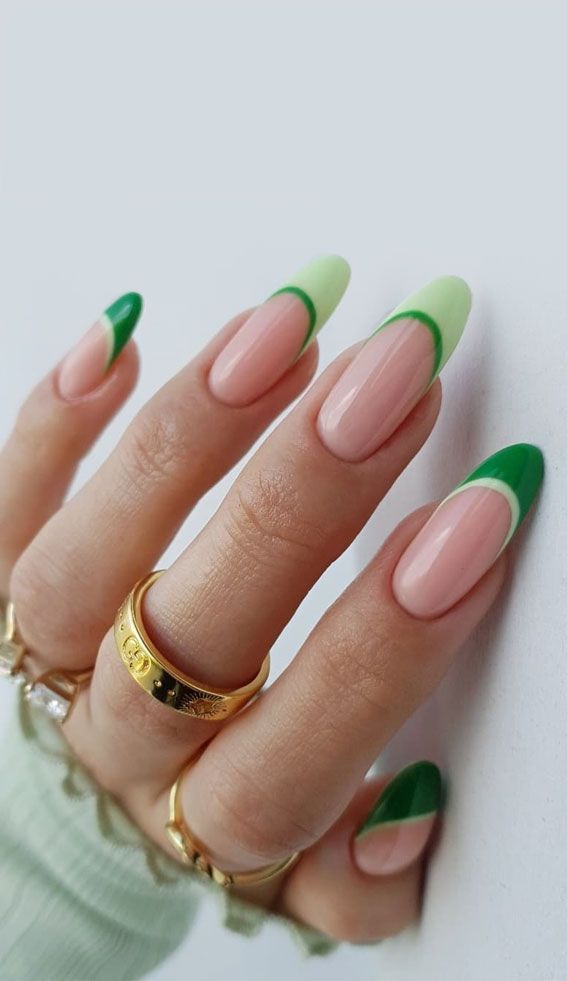 Almond-shaped nails and French tips are a match made in heaven. Unlike square tips, the almond shape exudes a contemporary essence that firmly places the style in the present year of 2023 rather than recalling 2007.
Additionally, this shape imparts a sense of length and grace to your nails. 
10. Intricate wiggles nails
Almond-shaped nails give you lots of space to get creative. They're perfect for intricate swirling designs like the one shown here. With so much room, you can add lots of fine details to your nail art and make it really cool and stylish.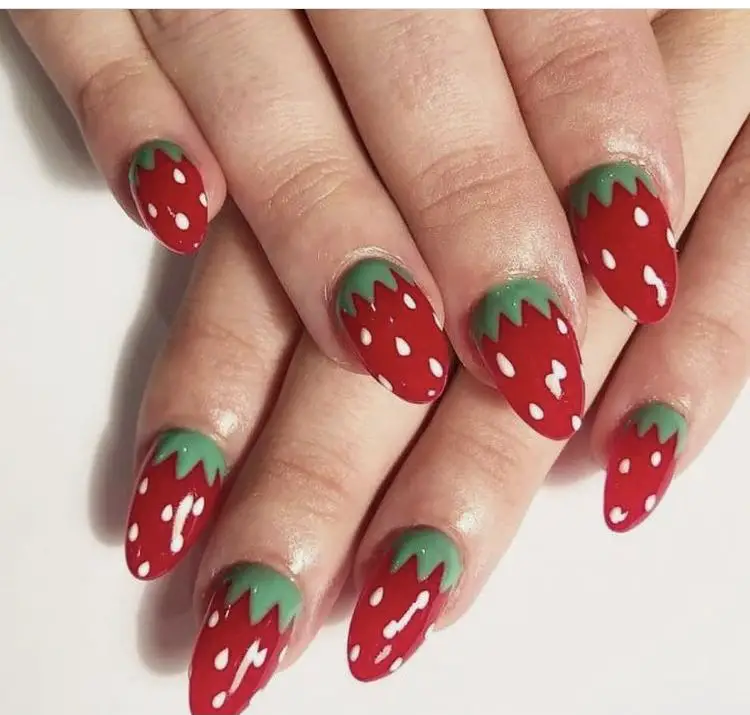 For those with almond-shaped nails short, they can try adorable nails that resemble strawberries in a field.
The strawberries' shape complements the almond shape, and the vibrant red color creates a delightful contrast against the soft nude base. This design captures a playful and fruity vibe that's hard to resist.
Adding a creative twist to the classic French manicure, these soft pastel tips refresh the look. The gold and white dotted border adds elegance to almond-shaped nails, creating a stylish and sophisticated manicure that stands out.
Embrace the universal joy of a smiling face in your nail art. To achieve this adorable look on cute almond-shaped nails, begin with a nude base. Then, use a dotting tool to meticulously craft circular shapes, ensuring that the end result radiates pure happiness.
Add a bit of shiny polish to your nails for a pretty look that works in any season. This subtle yet elegant choice allows you to achieve a beautiful manicure that remains versatile and appealing all year round.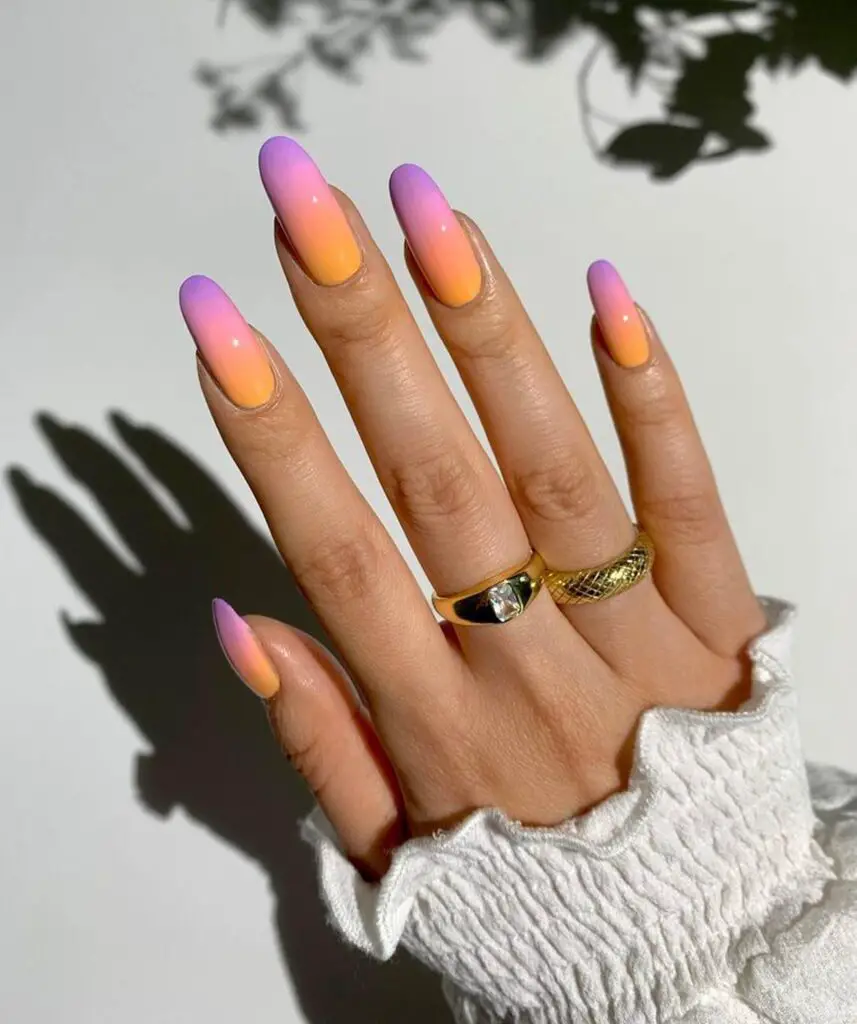 An ombré manicure is something we really enjoy. The good thing about having almond-shaped nails is that there's more space for creative designs, like this three-color ombré that starts with light pink, transitions to hot pink, and ends with red at the tip.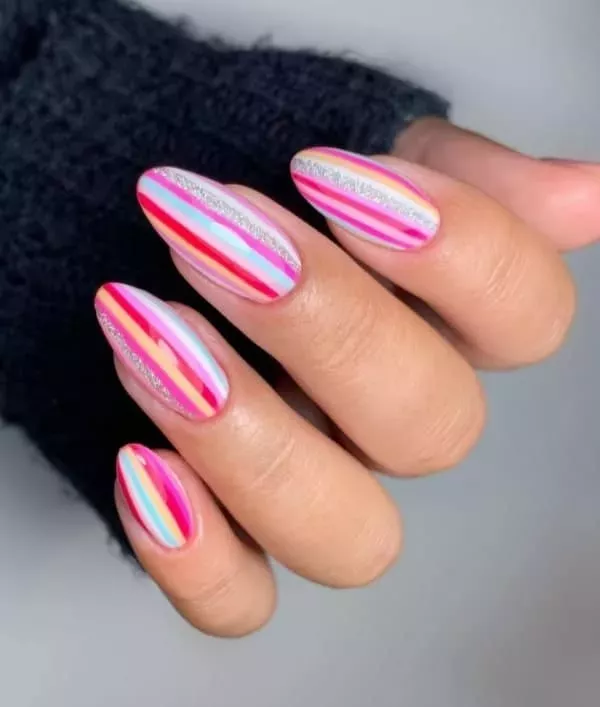 If you wish to see your nails appear longer then it's actual length try doing stripes nail art. When we see these bright colors together, we imagine sunny days and warmer weather.
In this design, the middle of the nail is left plain, making the focus on the area around it. A beautiful purple floral pattern stands out, making your nails look like a masterpiece with blooming flowers that catch everyone's attention.
The advantage of having almond-shaped nails long, is that the bigger size provides ample space for a captivating design like this galaxy-inspired one.
This design truly comes to life, commanding attention and exuding a unique and appealing coolness that's hard to miss.
19. White almond-shaped nails
Try white nails for a fresh and modern look. They're great if you want a simple but eye-catching manicure.
White suits all skin tones and works well with long or short almond-shaped nails. Plus, white is linked to new beginnings, letting you subtly express yourself through your nail style.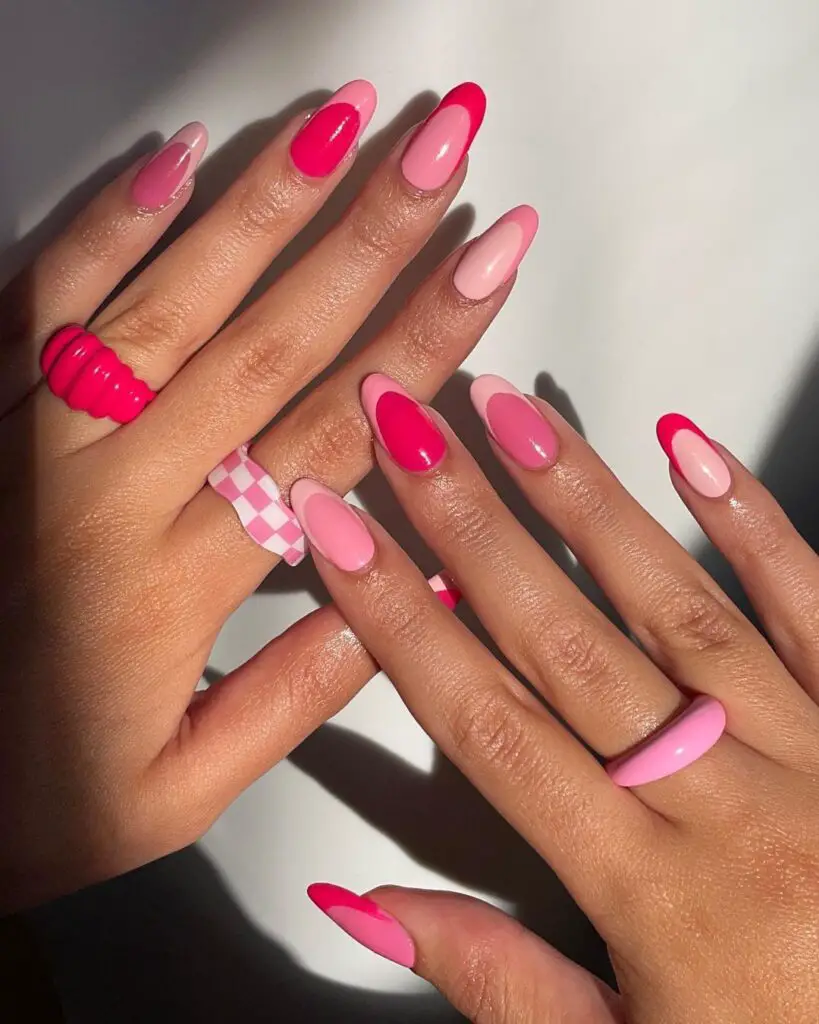 Pink almond-shaped nails are perfect for a cute and girly manicure. With shades ranging from soft romantic tones to bold neon's, you can find the one you love and experiment with fun nail art designs.
Disclaimer
All these amazing Nail Designs are from the Internet. Kindly contact us for credit/removal. Thanks to all nail artists, You are Awesome.
How to do almond-shaped nails?
If you're wondering how to get almond-shaped nails, don't worry. While going to a nail salon is an option, you can also shape them yourself at home.
With some guidance that you can fetch online and practicing them, you'll become skilled at achieving the elegant almond shape you want. Here's the tutorial –
We hope you enjoy exploring these 20 unique almond-shaped nail designs, brimming with creativity and self-expression.
With vibrant colors and intricate patterns, these ideas allow you to flaunt your individual style and create captivating nails for any event. Share with your friends and leave your thoughts below!