When you're picking how you want your nails to look, it can be a bit overwhelming because there are so many choices. But remember, you also need to decide what shape you want your nails to be.
There are different options like round, pointy stiletto, or . This time, let's focus on short square nails design. There are lots of amazing designs for square nails that can make your manicure look really impressive and special.
Choosing a short square nails design offers two compelling advantages. Firstly, the clean lines and angles of square nails create an attractive contrast with the curves of your cuticles, enhancing their appearance. Secondly, square nails are convenient and easy to manage, especially for shorter nails.
11 Trendy Short Square Nail Ideas
If you are open to experimenting with a fresh look (remember, nail shapes don't last forever!), or if you're seeking inspiration for your usual square-tip nails, these square nail designs can help you find the perfect style for your upcoming manicure. So, for your cute short square nails, you can try these amazing nail designs.
Disclaimer
All these amazing Nail Designs are from the Internet. Kindly contact us for credit/removal. Thanks to all nail artists, You are Awesome.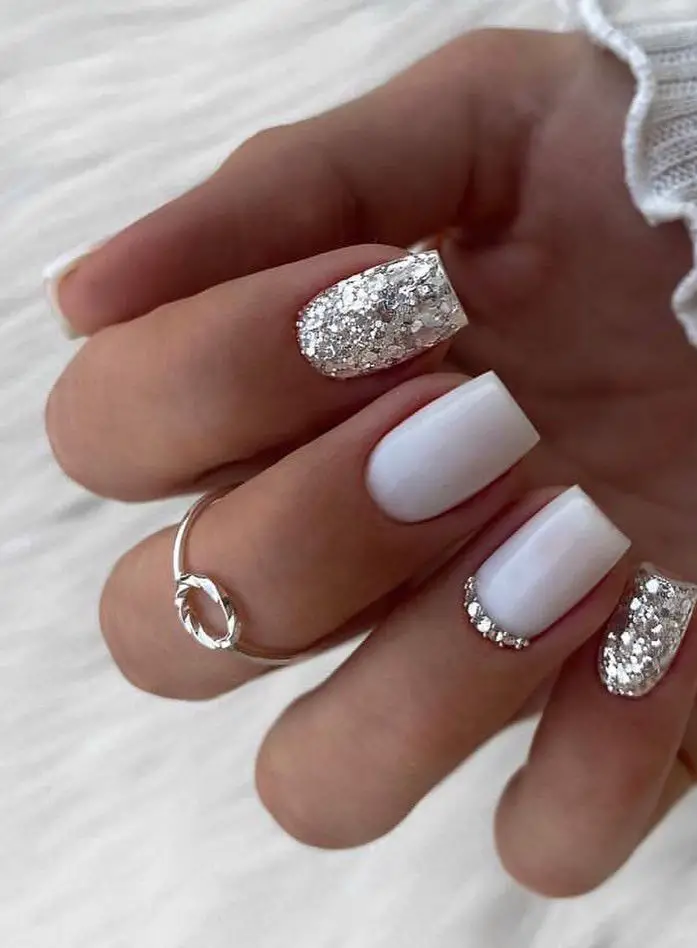 Even if your nails are short, you can still make them shiny and glamorous. These shiny glittery gel nails are a great choice when you're going out at night or for a special event. You might get to see such nail designs if you see our short square nails on Pinterest.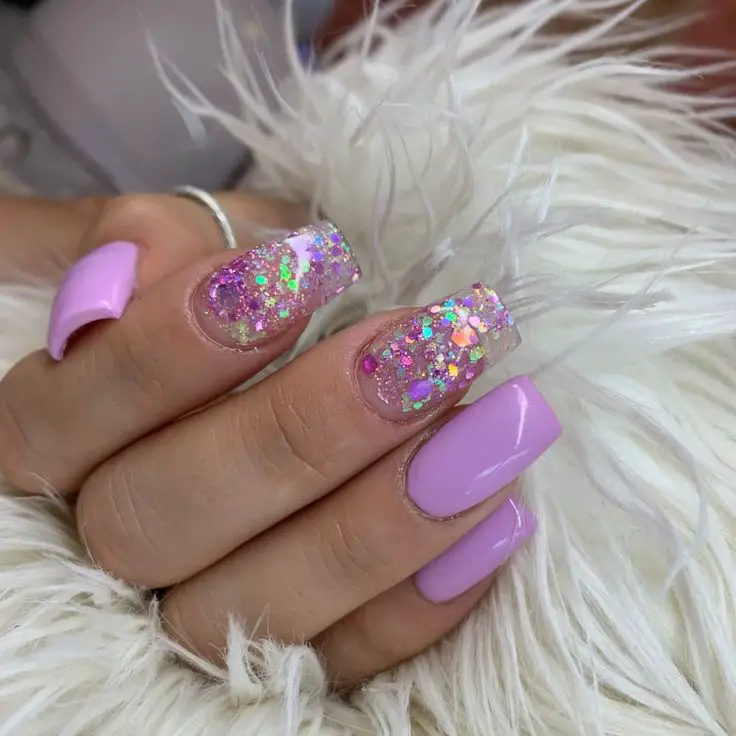 To make your short square nails look fancier, you can sprinkle a silvery touch on them. By adopting this creative idea, you can augment the look of your short square acrylic nail designs, giving them a shiny and neat finishing touch. 
3. Animal prints on nail tip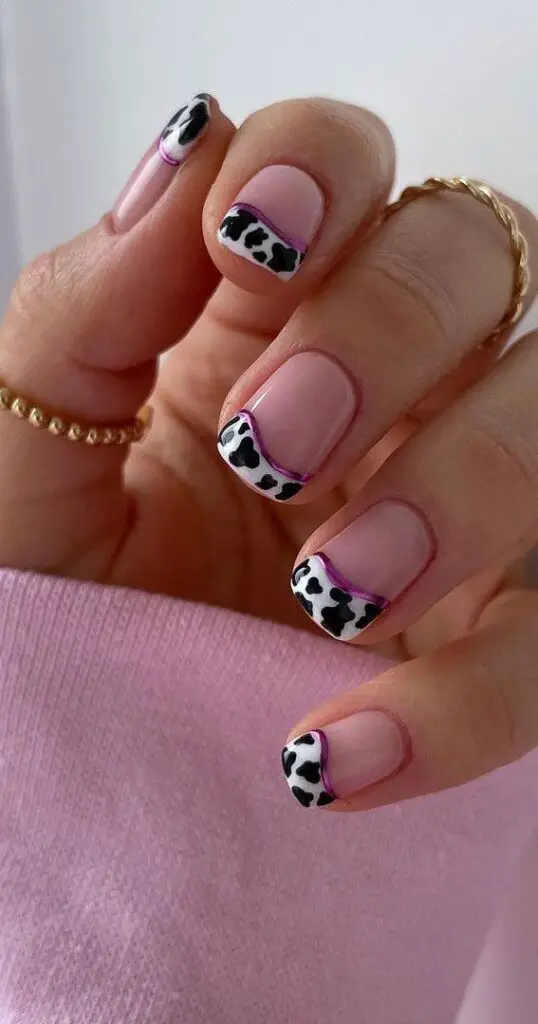 Try the newly trending French manicure, the one with animal prints on the tip of the nails.
Experiment with your look by trying out zebra stripes for a bold statement, or opt for a transition with the wild patterns of leopard or cow prints. Let your nails showcase your unique style with these exciting possibilities.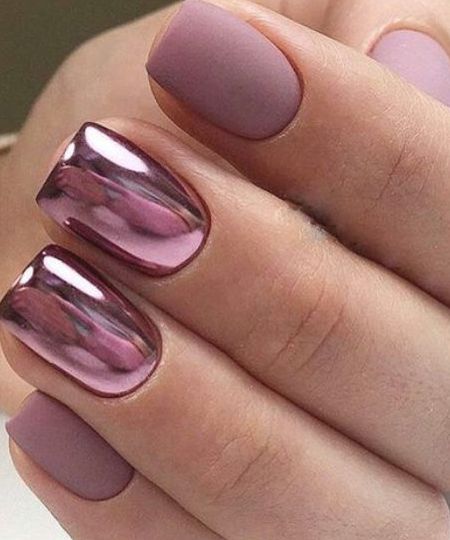 In this fancy red French manicure, the special nails with beautiful red roses catch everyone's attention. What's the trick to making everything in this design stand out without using glitter? Well, it's the chrome polish that does the magic.
5. Colour minimalist nails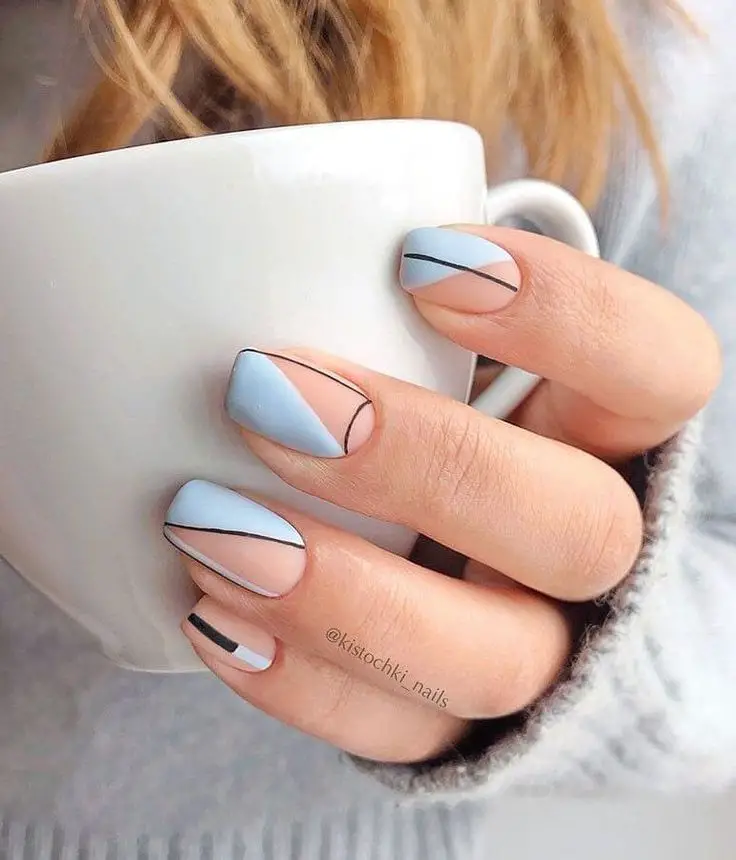 Simple nail designs can also be fun! A color block manicure can be one such perfect example of this type of nail design. It uses clean lines, shapes, and bright colors to make your nails look both playful and stylish.
6. Tortoise shell nail art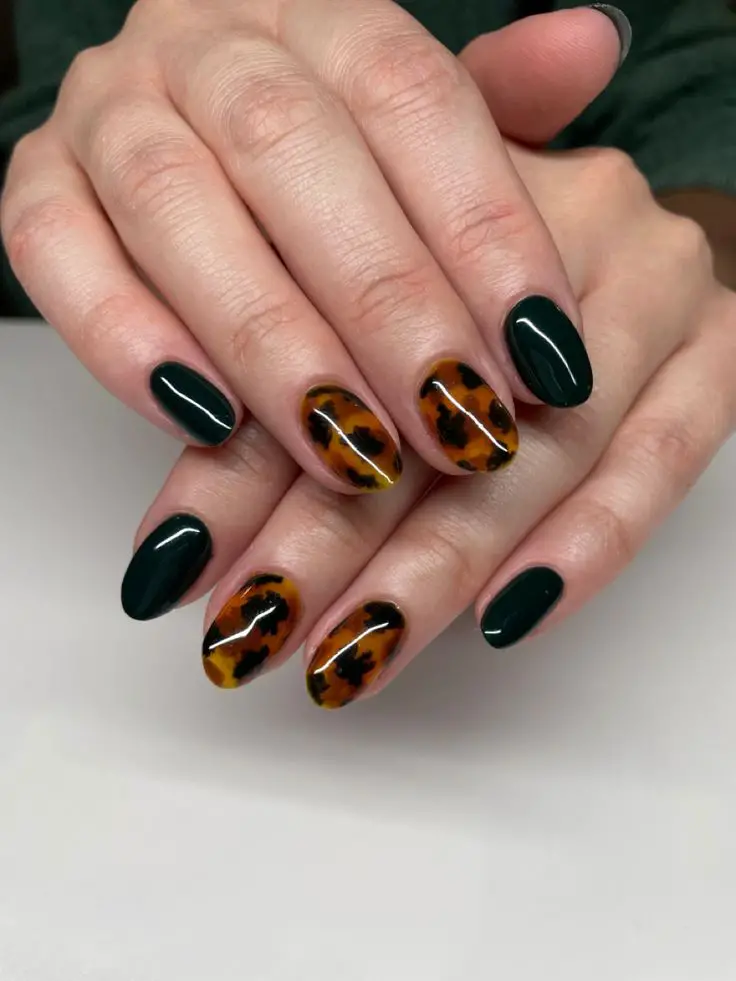 Make your short nails look cool and fun by trying the stylish tortoise shell design. Use a deep brown color as the base and a shiny finishing touch to make your short square nails look amazing. 
7. Varied shades of purple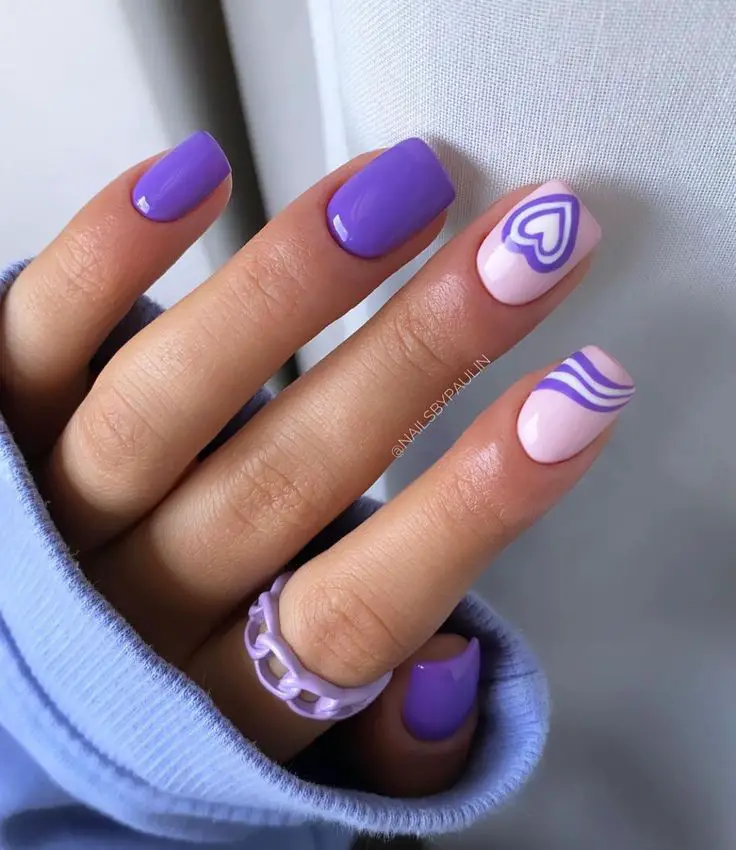 Purple's beauty extends to your nails too. No matter whatever purple shades you prefer, be it dark or light shades, these elegant colors bring refinement, making your nails look sumptuous.
Embrace purple's versatility and let your nails sheen with enchanting hues.
8. Groovy swirls nail art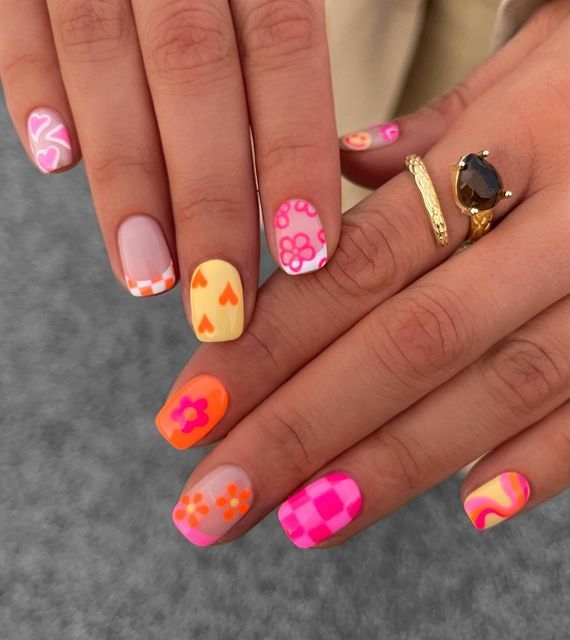 Feeling like trying something fun? Check out this retro style! You'll enjoy crafting the stylish two-color swirls, achieved effortlessly using nail polish in a medley of vibrant shades such as orange, pink, blue, yellow, and purple. Spread them over a white base for a stunning effect that's sure to turn heads.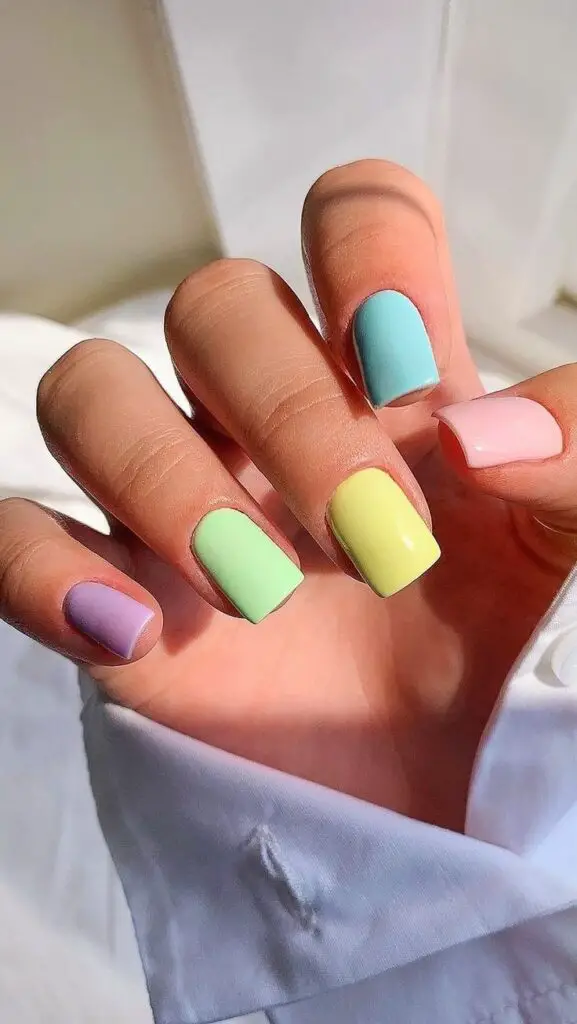 Matte nails look elegant and can also be fun! This delightful manicure introduces a palette of serene pastel nails, complemented by vibrant floral accents that grace select nails.
The finale is a chic matte finish, bestowing a hint of sophistication while retaining a whimsical charm. So, what are you waiting for? Give your nails an elegant & happy makeover with this blend of beautiful & chic matte style.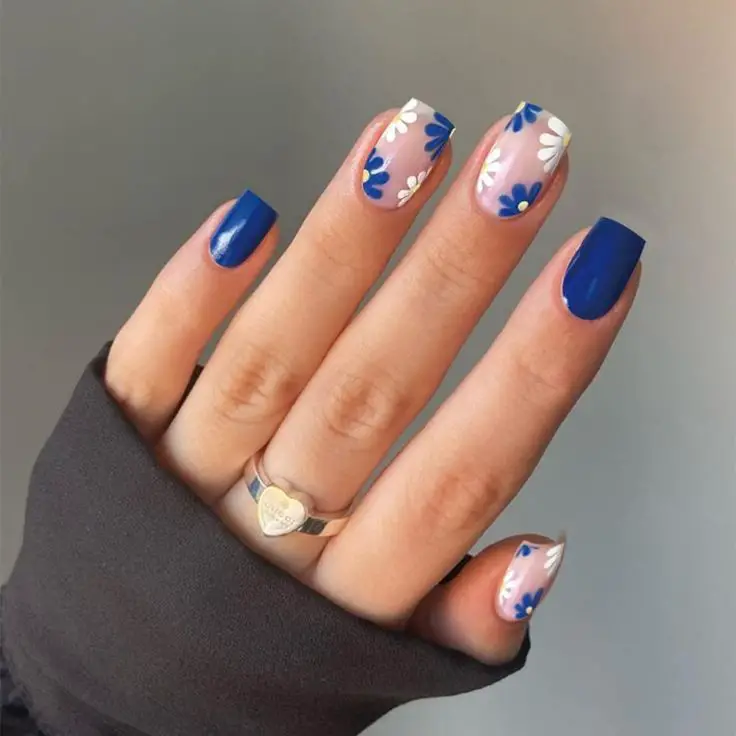 Sounds intriguing! Bright pink and shiny glitter together create a super cute and always stylish mix. This combo looks even fancier on short square nails. Elevate the excitement by experimenting with ombre glitter on a couple of your nails.
This creative touch adds a touch of enchantment, making your manicure truly mesmerizing.
In this upcoming season, textured designs that bring a sense of depth and touch, such as these cable knit nails, are expected to be all the rage.
These intricate patterns mimic the look of snug and warm sweaters, adding a delightful tactile element to your nails. As you flaunt these short square nail designs, you'll evoke the cozy comfort of your favorite winter wear, creating a charming and stylish statement.
Get ready to embrace this trend that merges fashion and solace uniquely and appealingly.
Discover 11 fantastic short square nail ideas perfect for your nails, adding that extra touch of charm. If you ever have questions or want to give any feedback, don't hesitate to leave a comment – I'm here to help!
And don't forget to spread the word among your best gal pals about these wonderfully unique and enjoyable nail ideas. After all, sharing the joy makes it all the more delightful!