Have you embraced the allure of the coffin nails trend? The elegant contour of coffin shaped nails designs emerged as the favored choice for acrylic enthusiasts a few years back, maintaining its prominent status as a prevailing trend.
If you're drawn to unique nail styles this year, I recommend embracing coffin-shaped nails for their sophisticated charm if you haven't already.
What is coffin-shaped nails design?
Coffin nails bring a sleek and stylish look with straight lines on three sides, forming a rectangle that's reminiscent of a coffin's shape – just like the name suggests.
And guess what? Coffin nails work their magic on both short and long nails. So no matter the length you're into, this nail trend will totally match your vibe and add a touch of captivating charm to your nails.
Different types of coffin nails design
Whether you're flaunting short coffin-shaped nails or going for longer ones, these nail design ideas have you sorted. Explore ways to amp up your nail style by opting for designs that are anything but ordinary!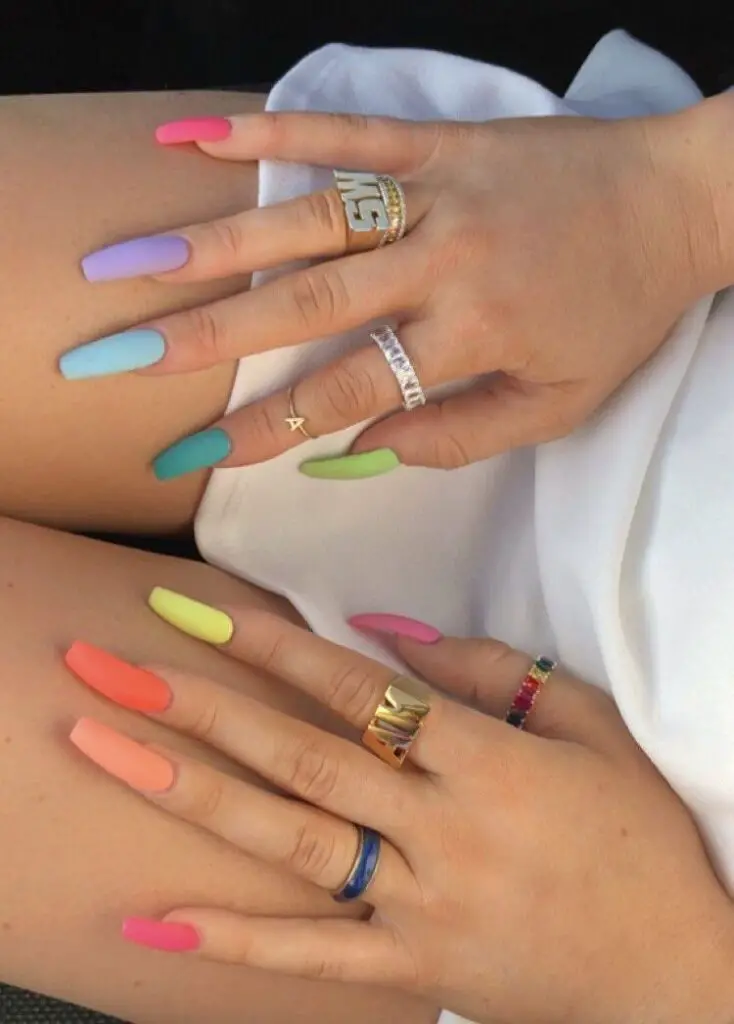 Mixing elegant colors is a sure win. Pair soft pastel with crisp white, and try a matte finish on one nail for creativity. This nail art enhances coffin-shaped nails, creating a captivating and sophisticated look.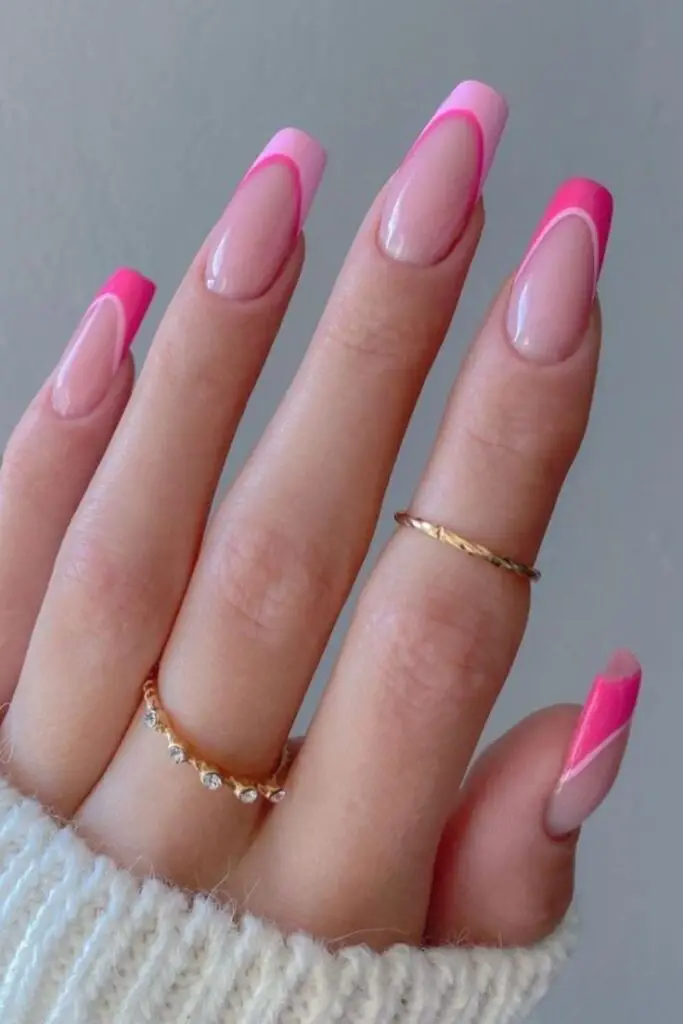 Try a captivating geometric French manicure on coffin-shaped nails, with a charming pattern. Use a lovely mix of gentle shell pink and pure white, elegantly applied to the tips.
Upgrade your nail art prowess with this exceptional design, seamlessly uniting geometry and sophistication, all with the added flair of coffin-shaped nails and French tips!
3. Graffiti Coffin Nails Design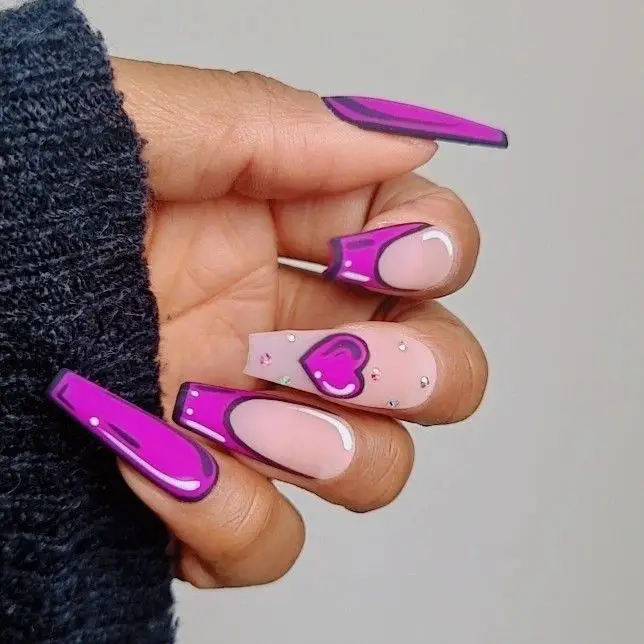 Let your imagination run wild with graffiti nails that prove creativity knows no bounds! These cool coffin nails make a bold statement, giving your fingertips a confident and standout vibe.
Embrace the artistic flair, and let your nails tell a captivating and daring story of their own!
4. White Coffin Shaped Nails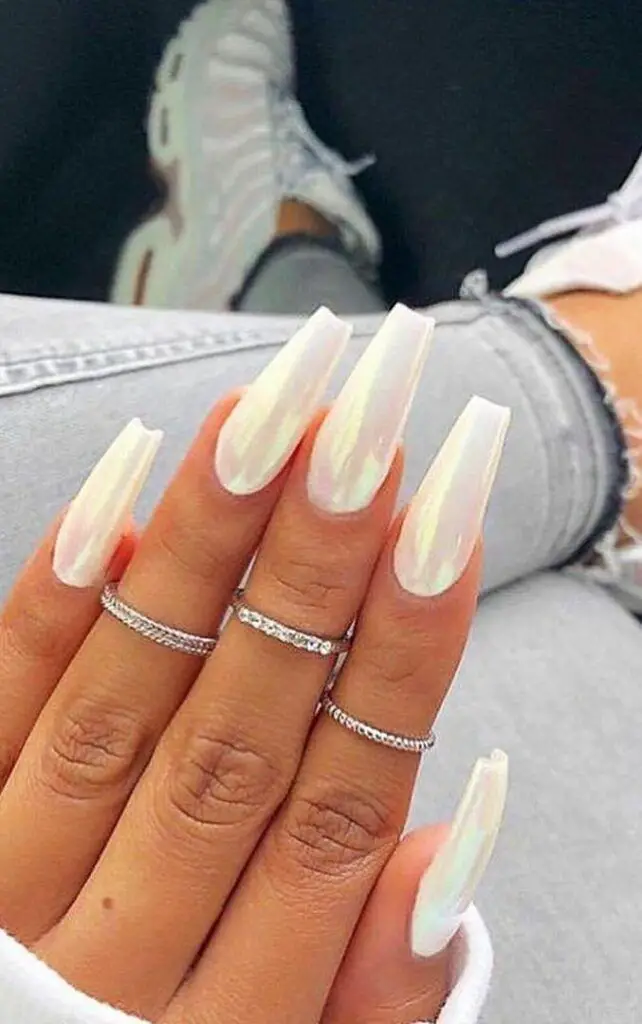 Visualize the charm of white coffin-shaped nails, elegantly coated in chic white polish, with a single nail that commands attention. Turn that standout nail into a dazzling masterpiece with stunning rhinestones.
The result? An inspiring look that's easily attainable. Get white polish, nail glue, and sparkly rhinestones – all online. 
5. Black Coffin Shaped Nails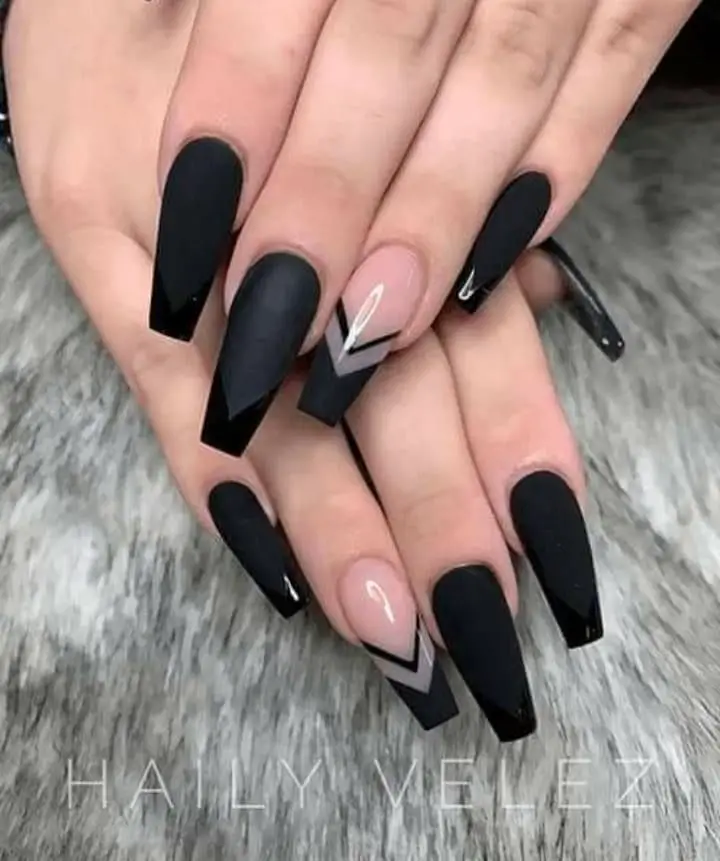 Infusing the black coffin-shaped nails with a trendy and daring edge, this manicure serves as a masterclass in flaunting black nail polish with elegance. Most nails shimmer in sparkly black, and two accents showcase captivating matte ombre. This chic idea effortlessly blends essential nail trends.
6. Lavender Long Coffin-shaped Nails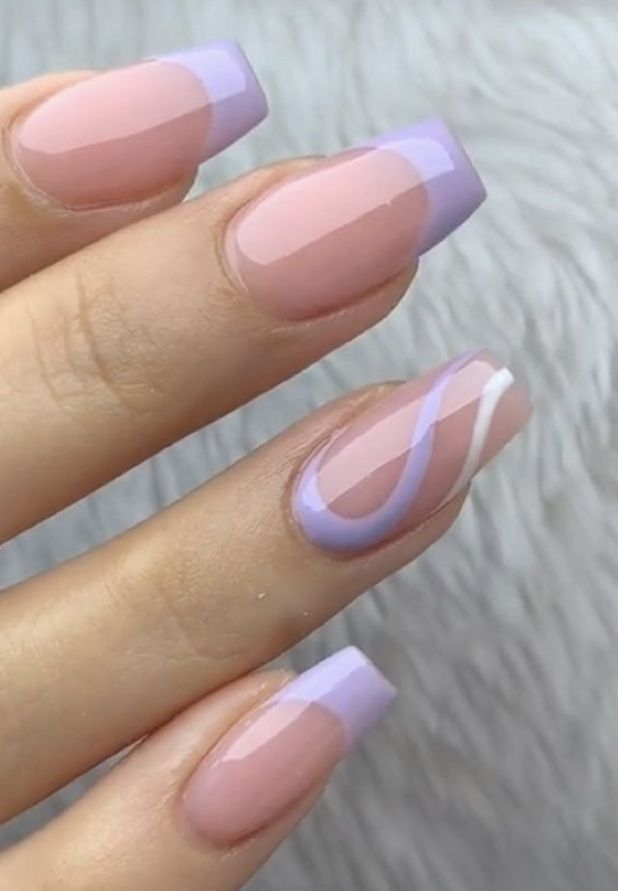 For your long coffin-shaped nails, consider this elegant idea featuring a gentle, almost pastel purple shade. The hue finds the perfect balance between light and dark.
Lavender's charm gets a boost with rhinestones. Add small diamonds and a top coat to a few nails for an extra pop.
7. Nude Coffin Shaped Nails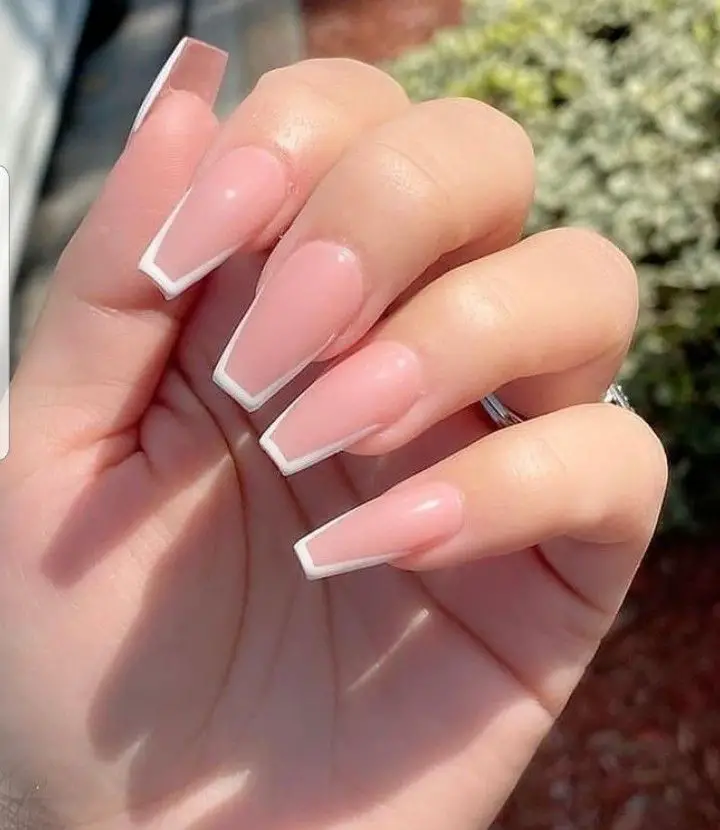 Nude nails are still a trend. Choosing a nude shade for coffin-shaped nails design adds appeal. Craft chic nude coffin-shaped nails, with a rhinestone accent nail. Achieving this at home is simple: apply your nude polish, add rhinestones to the accent nail.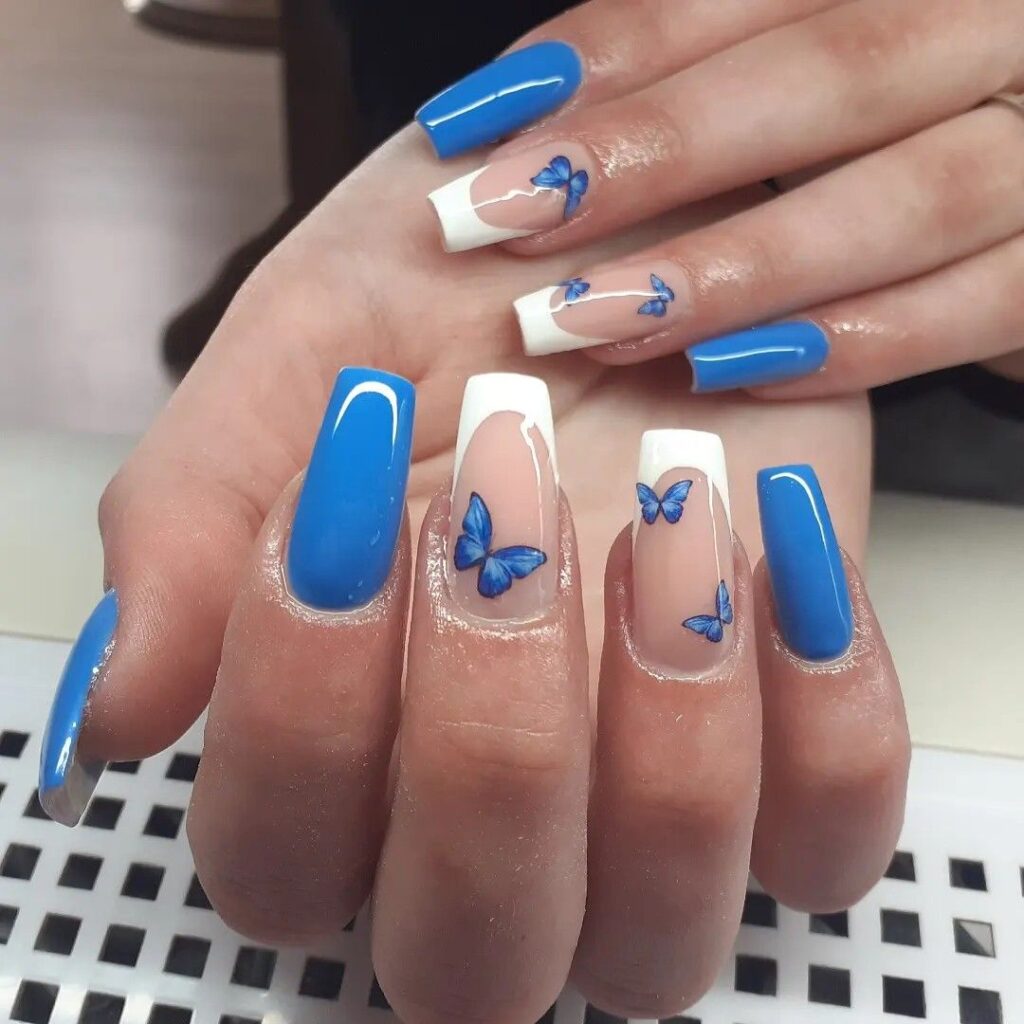 Choose cute coffin nail designs for a stylish and flexible option. The smooth application of the lacquer adds elegance, especially when combined with light gray tones and rhinestones. Embrace this current trend to fully showcase your personal style.
9. Geometric Nails Design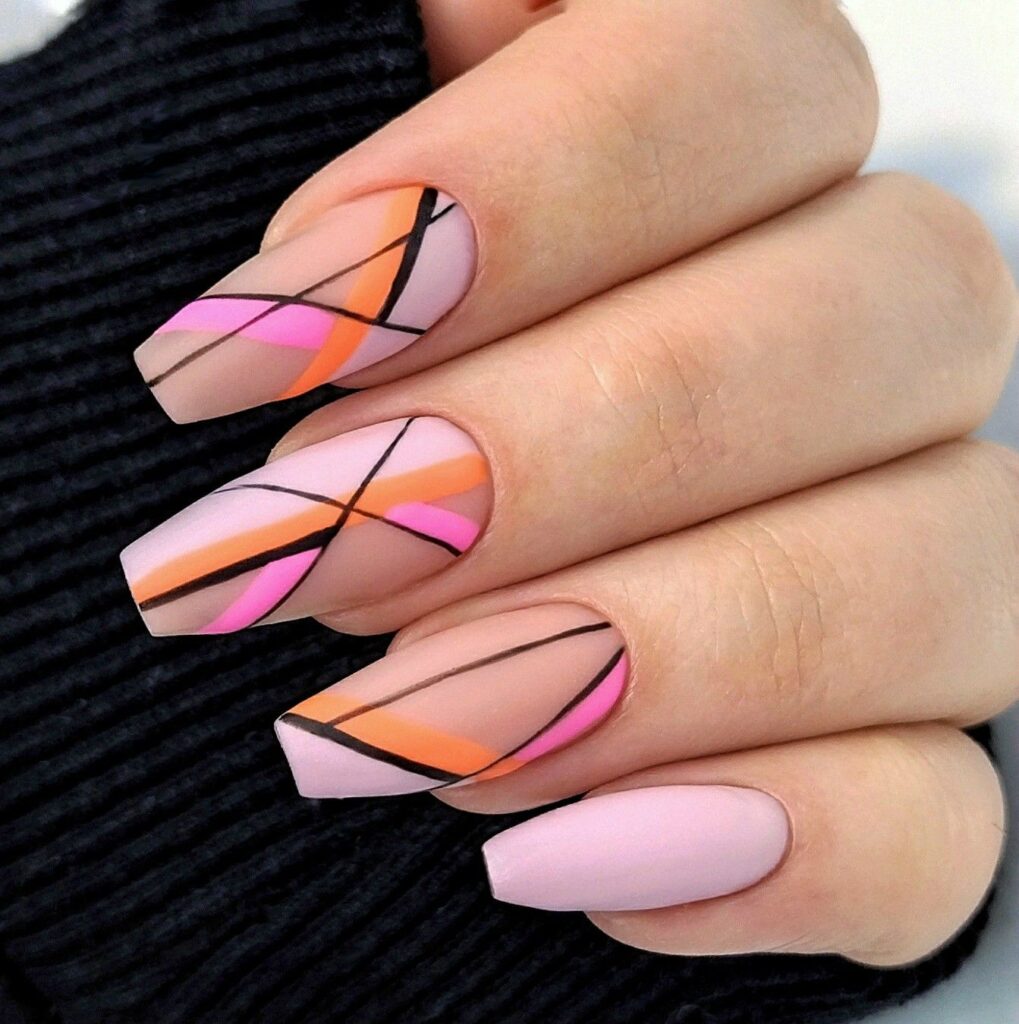 These lovely geometric nails have a soothing matte look. The stamped pattern adds depth to the simple design. They easily go from work to fun, thanks to their timeless style and trendy metallic color.
10. Marble Coffin Nails Design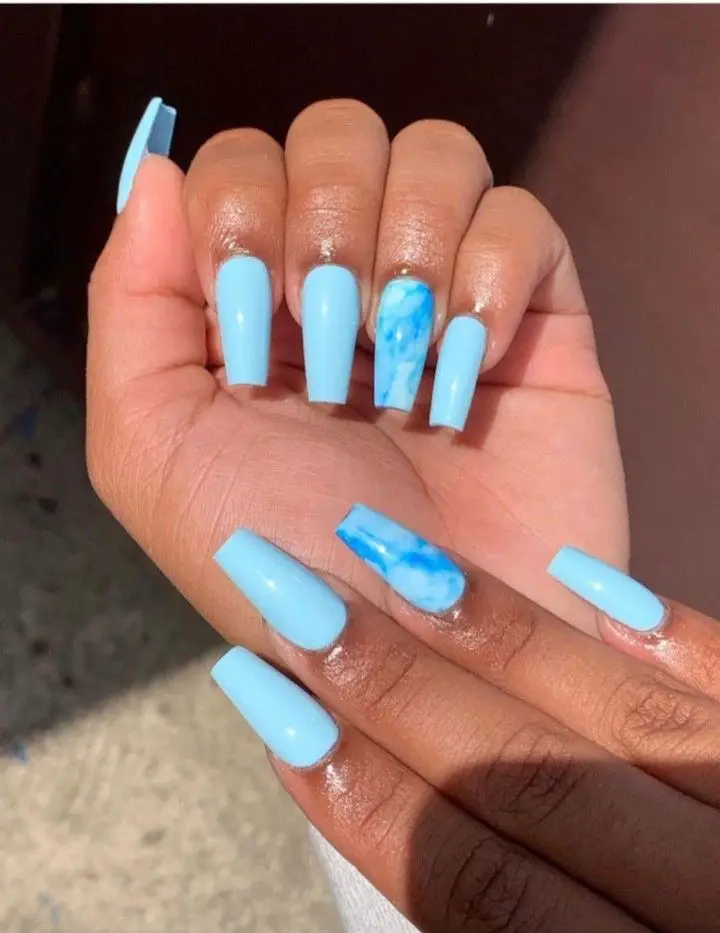 Stylish marble acrylic coffin nails with glitter accents are all the rage. Look at this chic version: blue and pink nails with dual accent patterns. One boasts light blue, while the other showcases marbled soft pink. These nails are simply breathtaking and perfect for special events.
11. Embellished Nails Design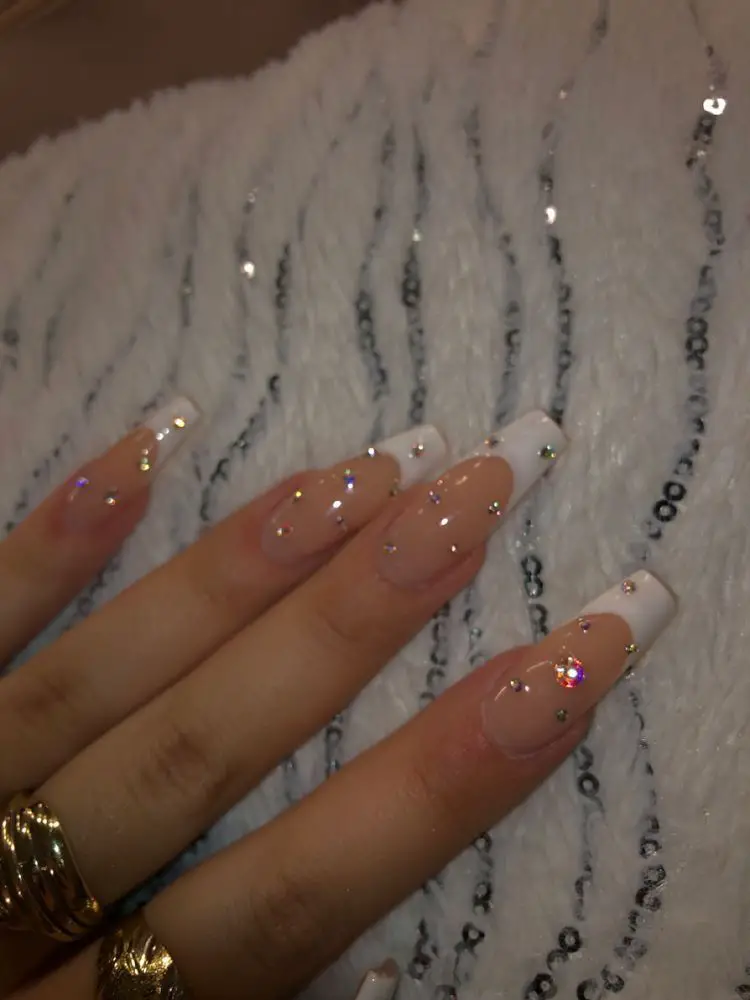 Choose embellished coffin-shaped nails for trendy and stylish nail art. They're eye-catching and in fashion. Adding nude accents and rhinestones amps up the flair, giving a sparkly touch. The combo of nude and stones works well with any outfit or makeup.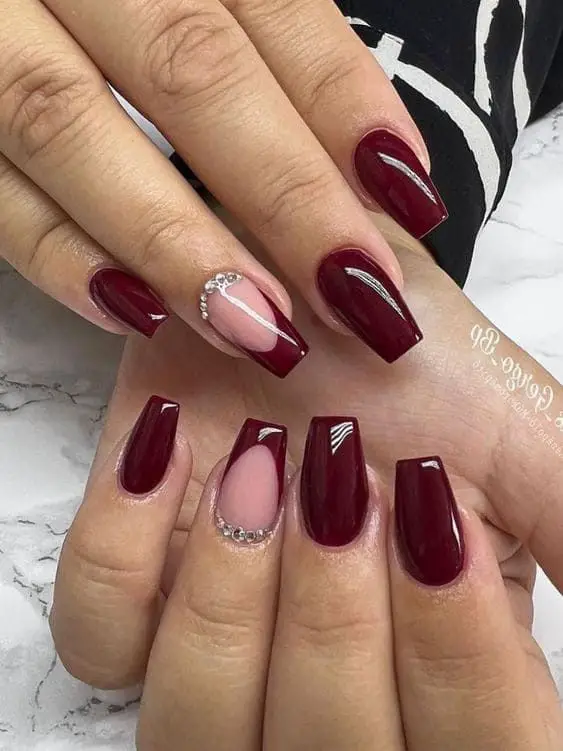 Burgundy nails perfectly balance regal and bold, straddling cute nails design coffin and royal nail art. For a powerful and dramatic look, go for coffin burgundy nails. Get creative with textures by mixing glossy and matte finishes for added charm. 
13. Bubblegum Pink Coffin-shaped Nails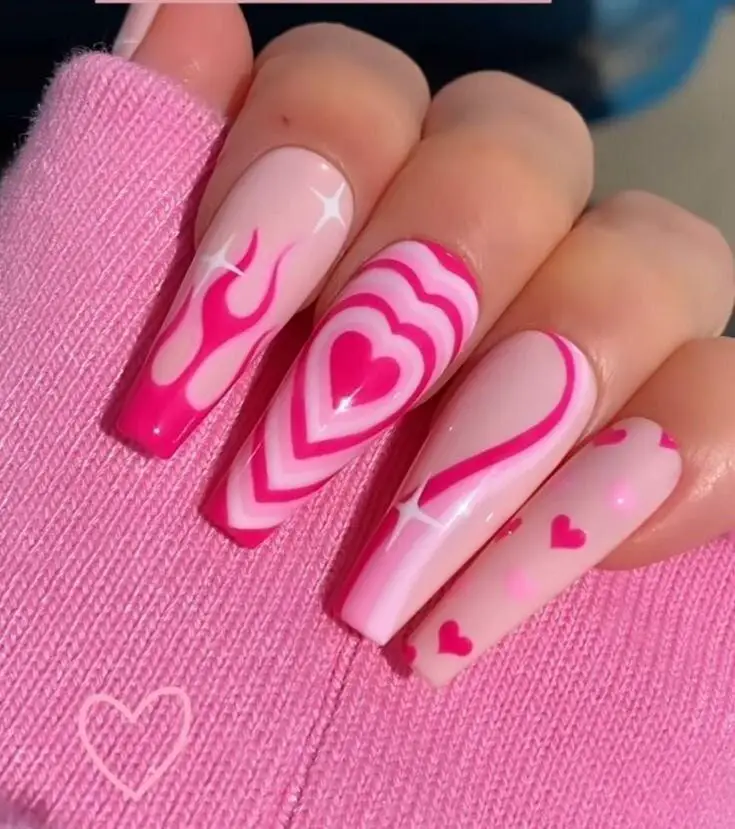 Emanating playfulness and delight, bubblegum pink coffin-shaped nails take center stage. Opt for a matte finish rather than the conventional glossy for a twist. While you can still achieve this at home, the end result will hold a captivating allure.
14. Neon Flame Nail Design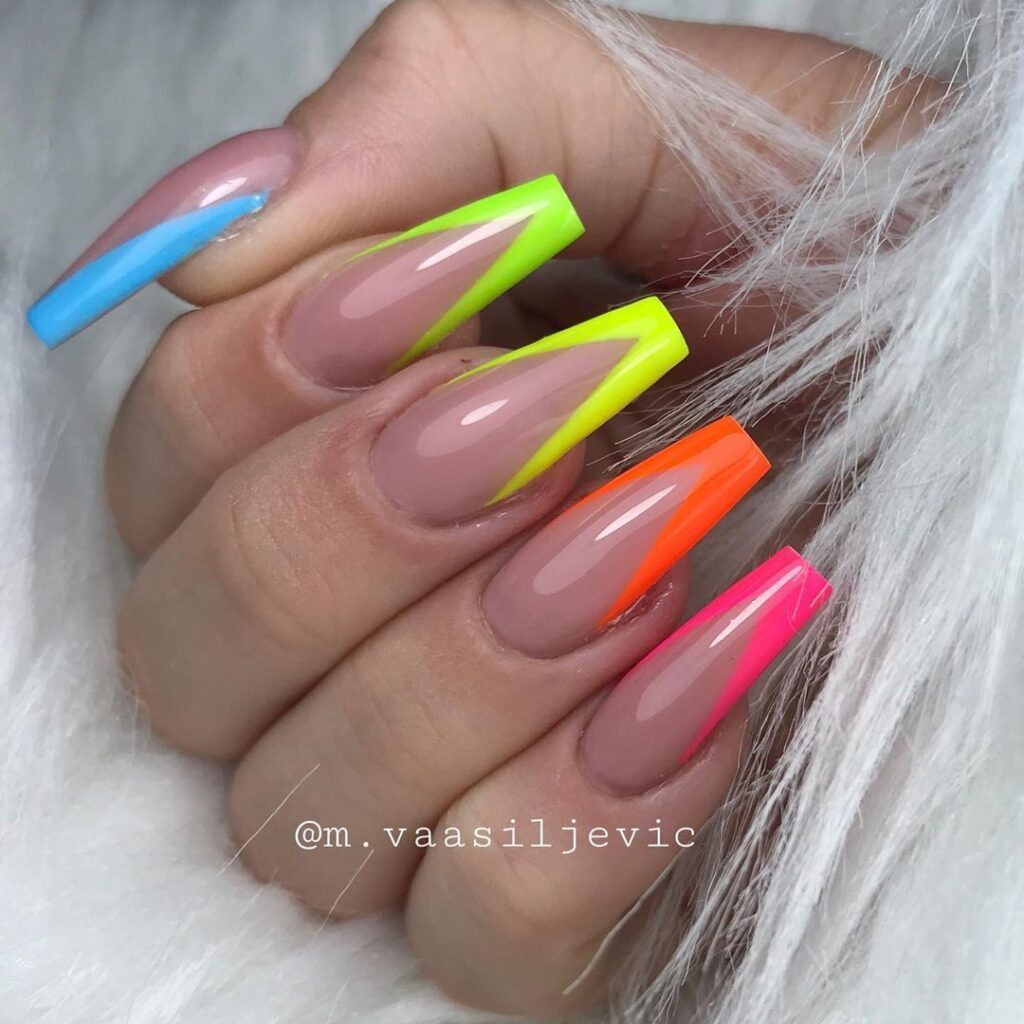 Add a splash of color to your daily style with this striking coffin nail art. The distinctive neon flame effect elongates the nails, perfectly complementing their coffin shape.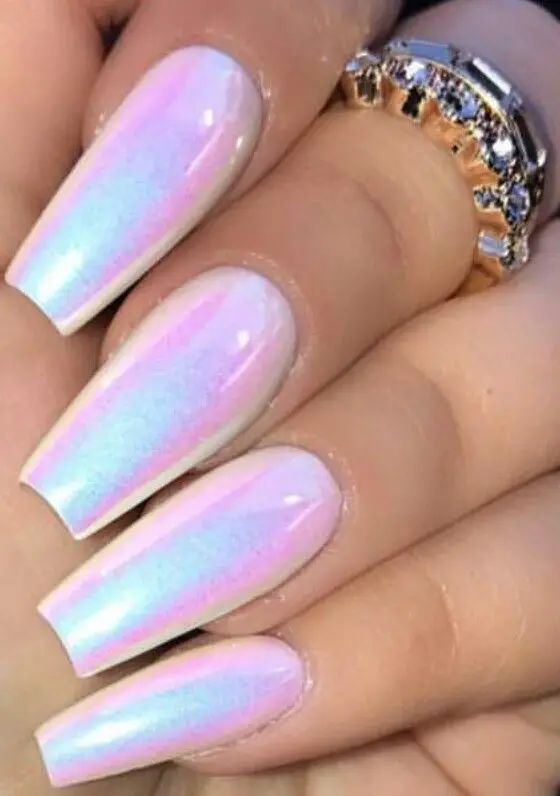 Give your nails a playful unicorn makeover, perfect for teens and young adults. The halo effects add a lovely contrast to the otherwise soft white look.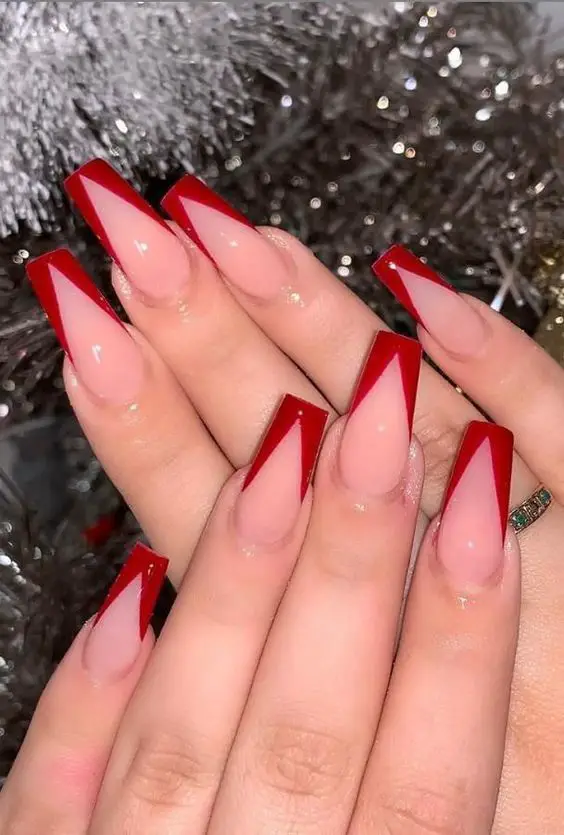 Try glitter and glossy nail enamels for a dynamic effect on your red coffin-shaped nails. Opt for a bold shade like red or cherry red on the glossy nail to elevate the coffin nail design!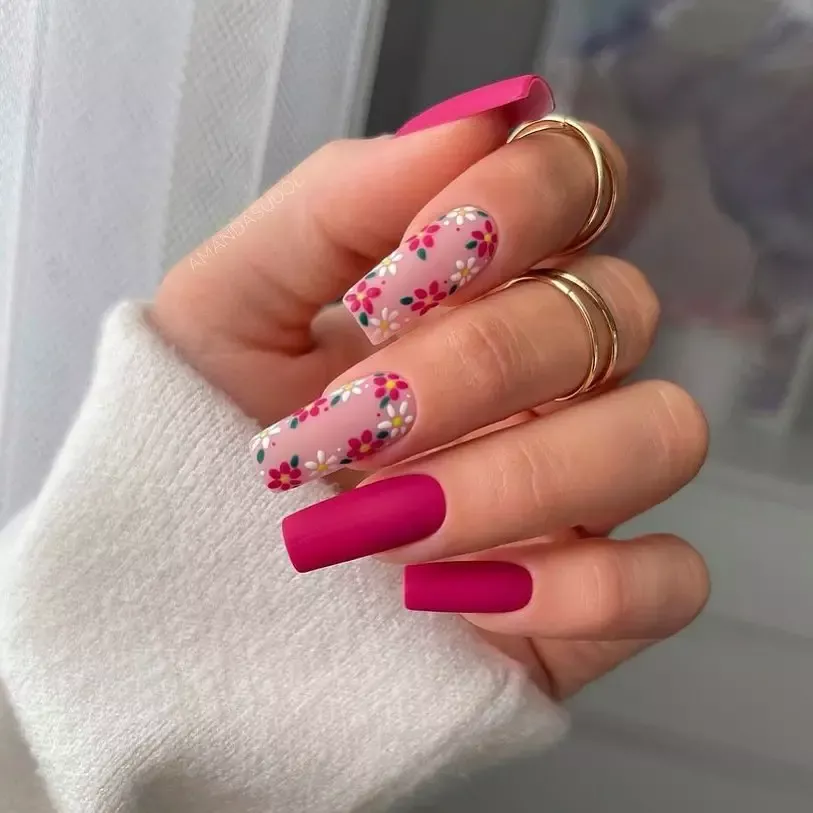 Choose an extra-pretty nude style. These coffin nails combine a soft pastel nude with sparkly gems for added allure. Consider adding 3-D flower shapes to one nail for a unique touch.
18. Heart-Shaped Nails Design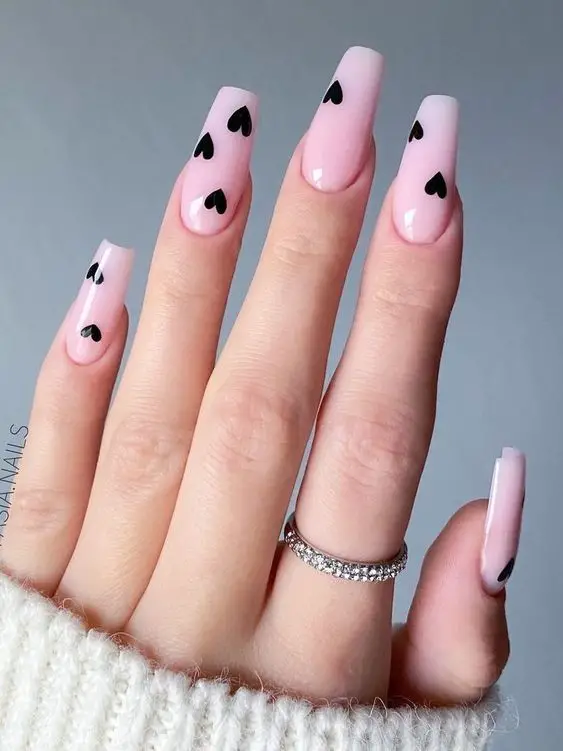 Whether it's a wedding or not, this date-ready manicure suits medium coffin nail designs. The neutral glossy base, paired with a red heart on each nail, gives a minimal yet striking appearance.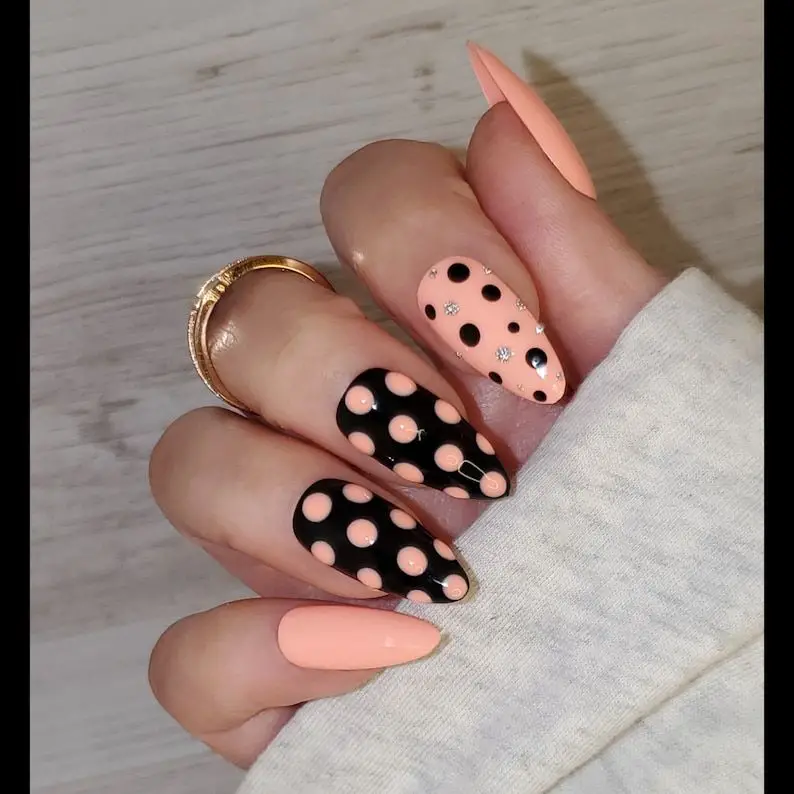 Ditch ordinary rainbow nails for a unique twist. Add dots to each nail to unify the rainbow theme. Embrace these coffin nails design confidently!
20. 3D Coffin Nail Designs
Enhance coffin nails using 3D designs, creating an eye-catching extra dimension. Select your preferred style, whether it involves gems, studs, or even flowers.
Disclaimer
All these amazing Nail Designs are from the Internet. Kindly contact us for credit/removal. Thanks to all nail artists, You are Awesome.
We've discussed the latest coffin-shaped nail designs and their variations. Select creatively chic nail art according to your nail shape, then share and let us know your choice!